On November 18th 2020, Institute of Biotechnology, Hue University (HUIB) organized the Scientific Committee to evaluate the Hue University research project "Cloning and expression of gene encoding RAP1 antigen of hemoparasite Babesia bovis from cattle", code: DHH2018-15-08 was headed by Assoc.Prof. Dinh Thi Bich Lan, HUIB was the implementation institution.
At the meeting, on behalf of the research team, MSc. Nguyen Thi Huong presented of the process, and key results of the project, such as: 50 blood samples were collected from cattle raised in Thua Thien Hue, Vietnam; 4 positive samples were determined; a fragment of gene encoding RAP1 antigen of Babesia bovis was isolated, cloned and expressed, the fragment of gene encoding for RAP1 antigen was amplified and cloned into plasmid pGEX-4T-1 and then transformed into the E. coli BL21 (DE3) strain, the results showed that the fragment of gene encoding RAP1 antigen has a length of 300 bp, encoding a polypeptide chain with 100 amino acid residues, has 99% similarity to the polypeptide chain of GenBank (accession number: LC157851); results of SDS-PAGE electrophoresis showed that molecular weight of GST-RAP1 fusion protein is about 38 kDa. The research team published 01 article in Hue University Journal of Science, and supported to train 02 Doctors of Veterinary Medicine.
Members of the scientific evaluation council appreciated the results of project and commented on some modification (form errors, scientific terms…) and correction on the contents of final report.
Assoc.Prof. Pham Hong Son – Chairmain of the Scientific Committee agreed with the comments and assessments of the reviewers and members of the Scientific Committee, and suggested that the research team should correct the report.
The evaluation of research project: Good.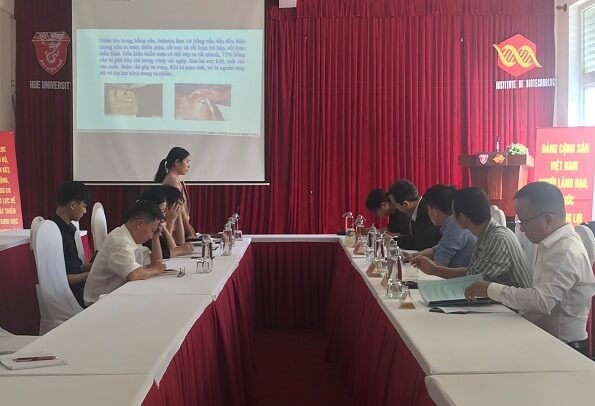 MSc. Nguyen Thi Huong presenting at the meeting