On June 16th 2020, Institute of Biotechnology, Hue University (HUIB) had a meeting with Thang Long Chemicals and Instruments Joint Stock Company (Thanglong Instruments). On the side of HUIB, there were Dr. Nguyen Duc Huy – Deputy Director and staffs at the Institute; on the Thanglong Instruments, there were managers, technicians in charge of equipment engineering.
At the meeting, Mr. Le Van Quy, Technical Sales Manager introduced Thang Long Chemicals and Instruments Joint Stock Company – the exclusive distributor for Waters Corporation (USA) on liquid chromatography, mass spectrometry and accessories; distributor of Carl Zeiss (Germany) on the microscope and TA Instruments as well as training courses, and the current services by the company. Technicians in charge of equipment engineering of Thanglong Instruments presented a number of modern products support scientific research and medicine from the company. Especially, the devices are currently being used in the field cells technology, and extraction of biological compounds from medicinal plants. The delegates have exchanged, discussed the related topic and cooperation direction between the Institute and the attending company.
At the end of the meeting, the representatives of the both sides expressed the wish to have a good cooperation in the future.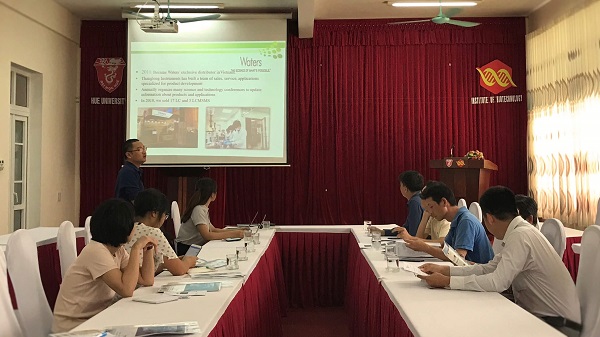 Photo of the meeting