On May 26th 2020, at Institute of Biotechnology, Hue University (HUIB), Assoc. Prof. Truong Thi Hong Hai, Director of HUIB, warmly welcomed the delegation from Fruit and Vegetable Research Institute (FAVRI) and Vietnam Academy for Water Resources (VAWR).  Dr. Nguyen Van Dung, Deputy Director of FAVRI, and researchers from FAVRI and VAWR expressed pleasure at the meeting with HUIB.
On behalf of the HUIB, Dr. Nguyen Duc Huy, Deputy Director introduced activities of research, application and technology transfer, international cooperation; current training program as well as development strategies of the Institute. On the side of the delegation, Dr. Nguyen Van Dung exchanged on research interests that have been implemented by FAVRI's staff, research achievements on vegetables, fruits, rice… as well as development strategies in the field of molecular biology, cell technology and microbiology. At the meeting, Assoc. Prof. Truong Thi Hong Hai sent a thankful to the delegation and expressed the wish to have a good cooperation in the future.
At the end of the meeting, the delegation of FAVRI and VAWR visited laboratories and center of the Institute, and had major discussion with researchers of HUIB. The representatives of HUIB and the delegation discussed various activities of cooperation in science and technology.
Dr. Nguyen Duc Huy presenting at the meeting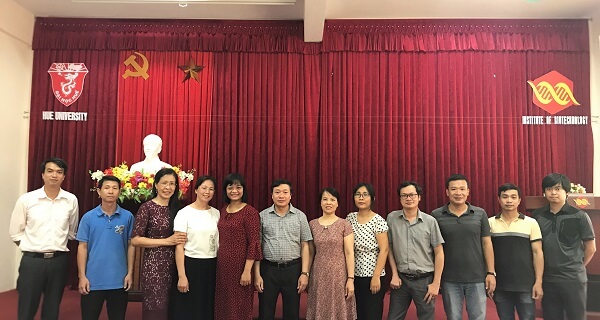 Staffs of the Institute of Biotechnology, Hue University took photo with the delegates