On July 10th 2020, Institute of Biotechnology, Hue University (HUIB) had a meeting with delegation from Tien Phong forestry one number state limited Company (Tien Phong Forestry Company). On the side of HUIB, there were Assoc. Prof. Truong Thi Hong Hai, Director and representatives of units at the Institute; on the Tien Phong Forestry Company, there were Mr. Ton That Ai Tin, President and officials of the organization.
At the meeting, representatives of the two sides introduced activity fields, development strategies as well as potentials and strengths of each unit. After that, the Institute and Company exchanged and discussed issues related to cooperation in scientific research; process and technology transfer; production practice application; coordination for build of models, and projects concerning agro-forestry field. Especially, the cooperation in production of scientific products to prevent and treat diseases on forestry and fruit trees in Thua Thien Hue Province; research and production of medicinal seedlings, orchids, and mushrooms. Accordingly, the Institute of Biotechnology, Hue University and Tien Phong Forestry Company will come to signing a memorandum of cooperation regarding discussed contents.
At the end of the meeting, the Tien Phong Forestry Company delegate visited laboratories, agricultural production models, and had major discussion with researchers of HUIB.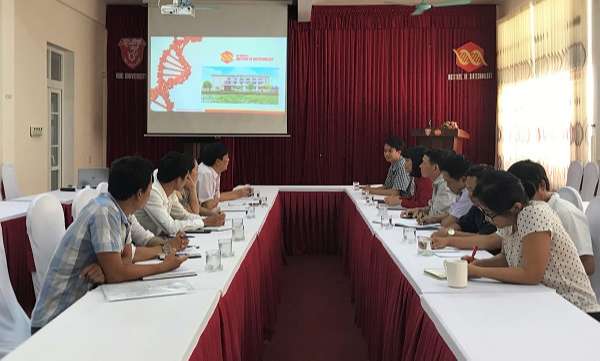 Meeting with delegation from Tien Phong Forestry Company