Pursuant to the Decision No. 03/QĐ-VCNSH dated January 21st 2020 of Director of Institute of Biotechnology, Hue University (HUIB) on establishment of the Project Board to launch a doctoral program in Organic Agriculture; on February 12 th 2020, at HUIB, the Project Board organized a meeting to collect comments about the Project. Assoc. Prof. Truong Thi Hong Hai – Head of the Project Committee, chaired the meeting.
At the meeting, Dr. Nguyen Thi Kim Cuc – Head of Department of Science – Training and International Cooperation presented an overview of the Project and issues need to be commented and modified. The Project Board conducted a discussion session focusing on the following contents: enrollment objects, capacity of training units, training programs and plans.
At the end, Assoc. Prof. Truong Thi Hong Hai sent thanks for the members of the Project Committee for attending the meeting and contributing a lot of valuable and practical suggestions on the Project of HUIB. The Institute has acknowledged and continued completing the Project to submit to the President of Hue University for approval and issuance.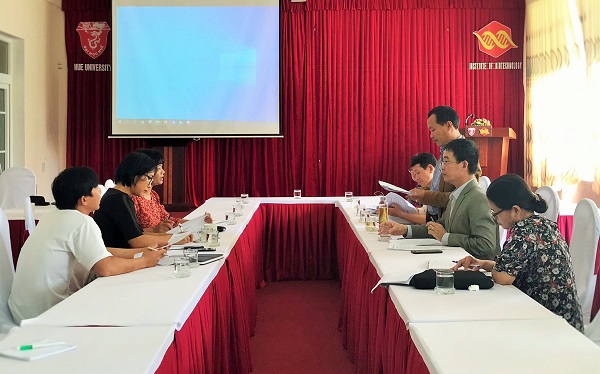 The Project Board discussing at the meeting