Belong to the project on upgrades, preventative maintenance and repair of facilities and equipment for scientific and technological activities at the Institute of Biotechnology, Hue University (HUIB) under Decision No. 4092/QD-BGDDT dated October 5th, 2018 of the Minister of Education and Training Ministry. On September 3rd 2019, HUIB organized a training course on using the Flowline F100 Lateral Flow Dispensing System for the HUIB's staffs.
Attendance to the training course involved – CEO of Ubio Biotechnology Systems Private limited, India and technician of Khoa Tri Company limited hosted training course as well as the Board of Director of HUIB, Head of laboratories and researchers.
The training course provided not only the knowledge about principle and operation of Flowline F100 system but also its applications in Biotechnology to staffs of the Institute. The training course took place effectively. Both experts and staffs felt highly enthusiastic in sharing their opinions and experiences.
At the end, Prof. Truong Thi Hong Hai – Director of HUIB expressed her gratitude and desire to continue a good cooperation in the future.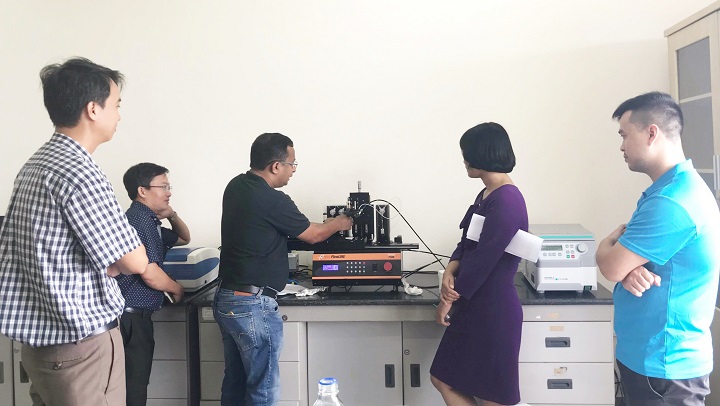 Dr. V. I. Bishor introduced about Flowline F100 Lateral Flow Dispensing System
Dr. V. I. Bishor, technician of Khoa Tri Company took photo with HUIB's staffs