On May 25th 2020, a delegation of lecturers and students from Vietnam National University of Agriculture (VNUA) visited the Institute of Biotechnology, Hue University (HUIB). This activity was expected to help students understand the real situation and contribute to their career orientations in the future.
Dr. Nguyen Duc Huy – Deputy Director, Dr. Huynh Van Chuong – Head of Organization – Administration Department, and Dr. Nguyen Thi Kim Cuc – Head of Science, Training and International Cooperation Department from HUIB attended the meeting. On behalf of the Institute of Biotechnology, Dr. Nguyen Duc Huy introduced the history, organizational structure, research interests, products as well as suggested orientations that VNUA and HUIB could exchange and cooperate in near future. Head of the delegation, Assoc. Prof. Nguyen Van Giang, Faculty of Biotechnology, VNUA highly appreciated HUIB for creating opportunities for students from VNUA to visit the Institute.
After that, the delegation was guided by researchers of the HUIB to visit the laboratories, field houses of the Institute. They were also shared experiences in doing research, explained some specialized knowledge in biotechnology and how to apply the knowledge learned in school to practice.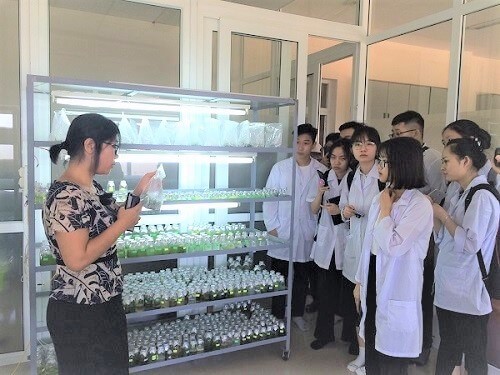 HUIB's staff introduced laboratory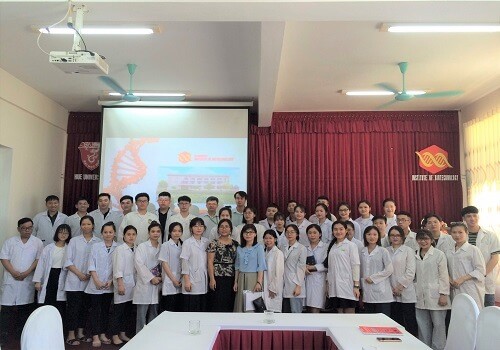 Group photo of the delegation of VNUA and HUIB's staffs