Within the framework of cooperation between the Institute of Biotechnology, Hue University and Obihiro Veterinary University, Japan to research probiotics for the prevention and control of diseases in cattle and poultry, Prof. Dr. Naoaki Yokoyama and Dr. Sivakumar Thillaiampalam conducted several in-depth analyses of veterinary immunology at the Institute's Department of Immunology and Vaccines from 25 to 27 October 2016.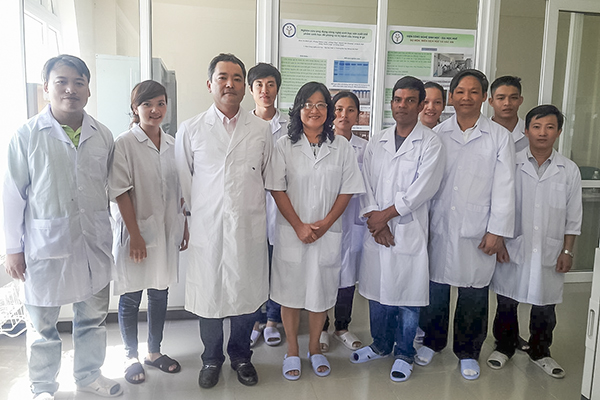 Delegation of Japanese experts and research team at the Institute of Biotechnology, Hue University
Institute of Biotechnology, Hue University with modern equipment invested methodically from projects to improve the quality of higher education invested by Hue University has met strict requirements as well as ensuring the accuracy of in-depth immunological and molecular analyses. The expert group highly appreciates the research results and wishes to continue collaborating to implement future studies.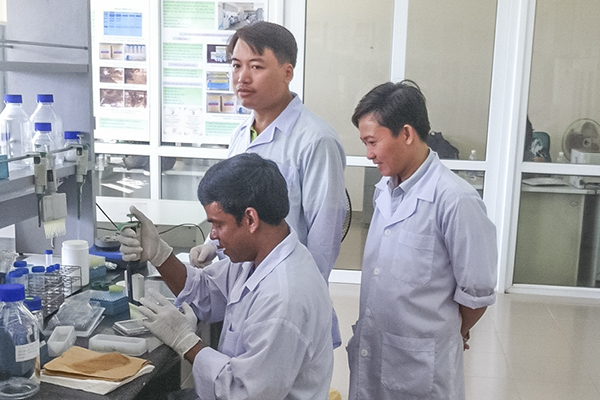 Dr. Sivakumar Thillaiampalam is conducting an experiment
At the end of the working trip, Prof. Dr. Naoaki Yokoyama thanked the Institute's attention and support during the preparation and implementation of the works. The professor also highly appreciated the research staff, facilities of the Institute and the development potential of the Institute as well as the prospect of developing new research directions between the Institute and Obihiro Veterinary University in the future. The Board of Directors of the Institute of Biotechnology highly appreciates the relationship with Obihiro University of Veterinary Medicine and wishes to promote and expand the relationship in research, exchange, transfer and training between the two institutions.