On March 5th 2021, Institute of Biotechnology, Hue University (HUIB) organized the Scientific Committee to evaluate the Hue University research project: "Treatment of effluent from swine manure biogas digester using biochar", code: DHH2018-15-13 was headed by Dr. Nguyen Quang Lich, HUIB was the implementation institution.
At the meeting, on behalf of the research team, Dr. Nguyen Quang Lich presented of the process, and key results of the project, such as: produced 02 types of biochar (seed and pellet) in an anaerobic burning environment at 500 – 550oC; the results show that biochar created in an anaerobic environment with high combustion temperature had good absorption capacity and effective in treating livestock wastewater after biogas digester, in which the treatment efficiency of ammonium and total coliform is higher than 95%; published 01 article in Hue University Journal of Science, 01 final project report; supported to train 02 students in engineering and technology. Beisdes, the research team also have applied products, including: 01 pilot system using biochar and 02 biochar types.
Members of the scientific evaluation council appreciated the results of project and commented on some modification (form errors, scientific terms, report structure …) and correction on the contents of final report.
Dr. Truong Quy Tung – Chairmain of the Scientific Committee agreed with the comments and assessments of the reviewers and members of the Scientific Committee, and suggested that the research team should correct the report.
The evaluation of research project: Passed.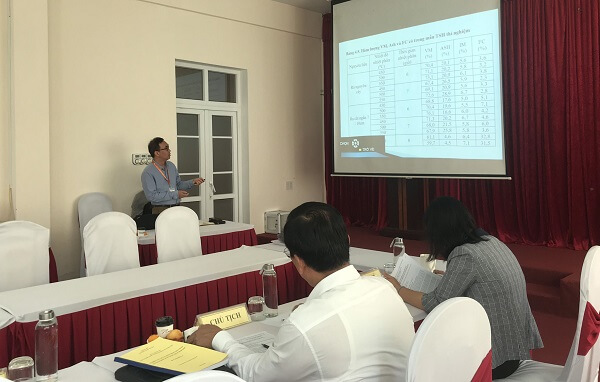 Dr. Nguyen Quang Lich presenting at the meeting