On June 26th 2020, the representative of Institute of Biotechnology, Hue University (HUIB), Dr. Nguyen Thi Kim Cuc – Head of Department of Science, Training and International Cooperation, attended on the provincial scientific conference with the theme "Essence of Oriental medicine" at hall of People's Committee of Thua Thien Hue Province.
At the conference, Mr. Nguyen Van Phuong – Vice Chairman of the People's Committee of Thua Thien Hue Province hoped that the conference would be a premise for relevant agencies issue policies on development of Oriental medicine, create specific tourism products; and wished that Thua Thien Hue Province would become a healthcare center in the middle of Vietnam as well as the whole country.
Mr. Nguyen Van Phuong speaking at the conference
With presentations from experts, scientists in the field of Oriental medicine, history, science and technology, the conference provided insight into development history and the role of Thua Thien Hue Oriental medicine in particular and Oriental medicine of the country in general. Solutions, orientations in efficient exploitation of indigenous resources and disease treatments have also been proposed and discussed by attending delegates to support healthcare for people, contribute to developing Oriental medicine and economy, society of our country.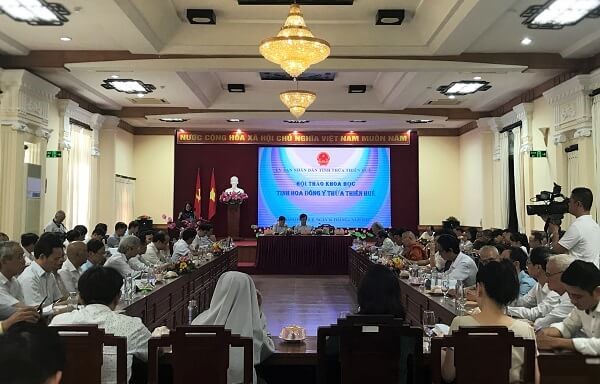 The delegates attending the conference
On the sidelines of the conference, herbal products of HUIB was exhibited and introduced such as organic rice, Moringa powder, Ganoderma lucidum, products by in vitro… The products of HUIB has received a lot of attention from delegates and participants.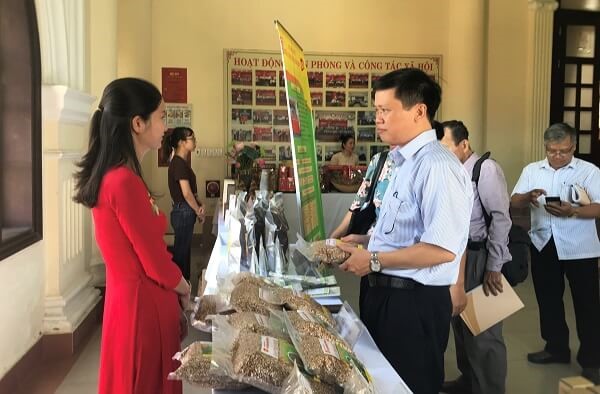 Delegate visited herbal products exhibition of HUIB
Through the conference, Institute of Biotechnology, Hue University has increasingly affirmed its role in science and technology application in practice, especially development of medicinal plants and herbal-based products in contributing to strengthening and developing the Oriental medicine of the province, and the whole country.