On May 28th 2020, Institute of Biotechnology, Hue University (HUIB) had a meeting with Khai Nam Science and Technology Company Limited. On the side of HUIB, there were Assoc. Prof. Truong Thi Hong Hai – Director and staffs at the Institute; the representative of the company was Ms. Nguyen Hong Hanh – Associate Country Manager, Vietnam.
At the meeting, Ms. Nguyen Hong Hanh introduced Khai Nam Science and Technology Co. Ltd., and ACEA Biosciences, USA – the corporation of the unit. ACEA Biosciences is a biotechnology company that is pioneering the development and commercialization of high performance, cutting edge cell analysis instruments for life science research and clinical diagnostics. Ms. Hanh also presented a number of modern products support scientific research and medicine from the company. Especially, the devices are currently being used in the field of microbiology, cells technology as well as the current services by the company. The delegates had heated discussion on the related topic and cooperation direction between the Institute and the attending company.
At the end of the meeting, the representatives of the both sides expressed the wish to have a good cooperation in the future.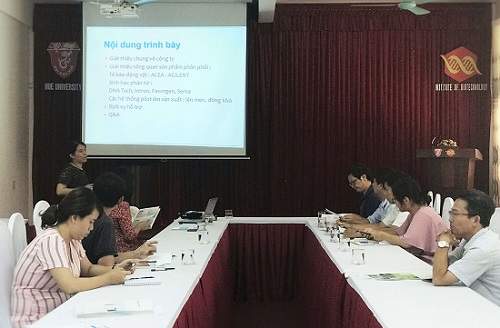 Photo of the meeting