INSTITUTE OF BIOTECHNOLOGY, HUE UNIVERSITY

Solidarity, Creativity, Development and Integration
—♦—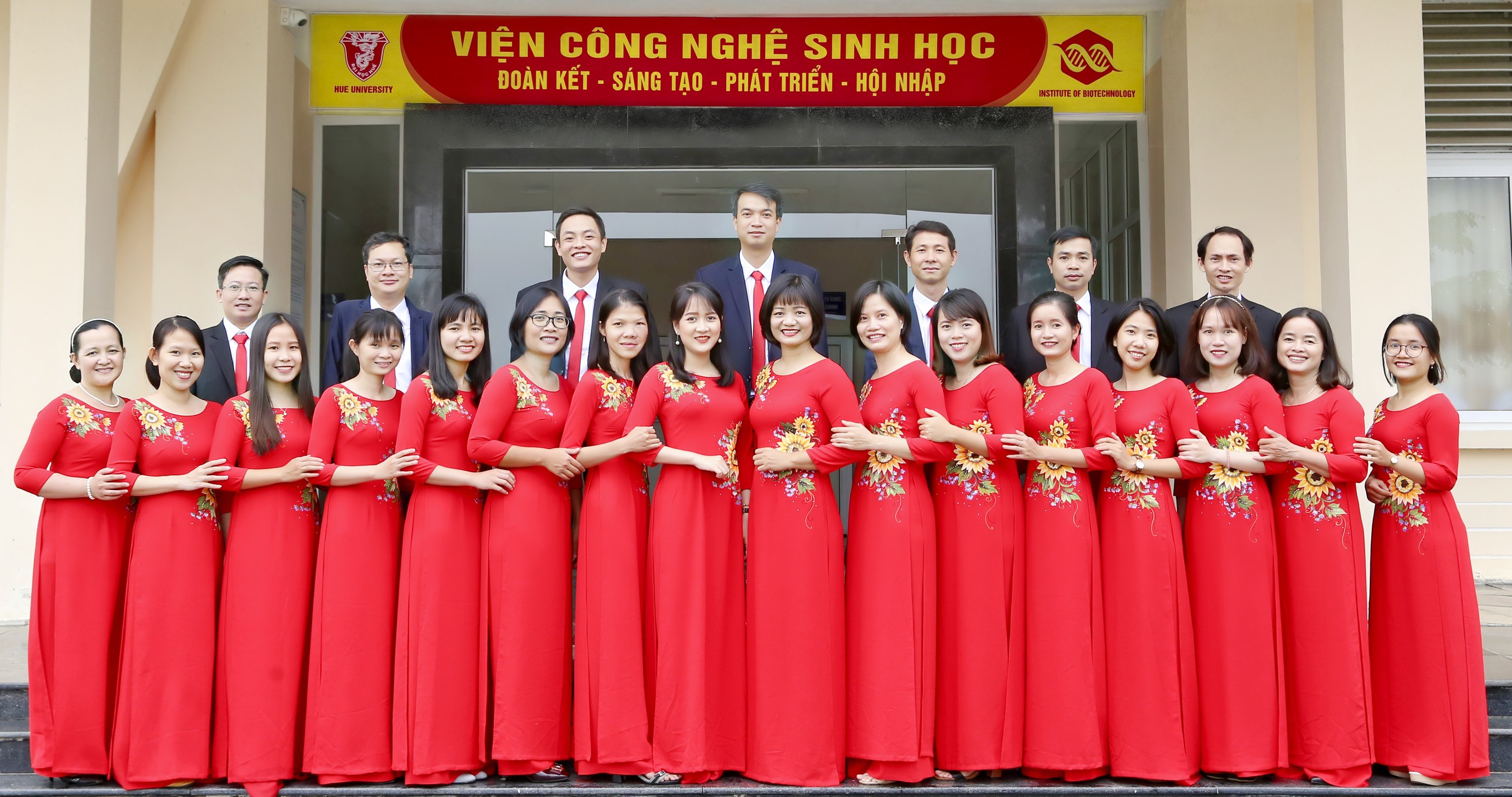 In April 2014, President of Hue University announced the Decision No. 808/QĐ-ĐHH to establish Institute of Biotechnology, Hue University base on Division of Biotechnology, Center for Incubation and Technology Transfer, Hue University.
In May 2018, Prime Minister announced the Decision No. 523/QĐ-TTg approving the strategy to develop Institute of Biotechnology, Hue University as National Center for Biotechnology in Central of Vietnam which has responsibility on innovative research and technology transfer in order to server social demands.
In July 2018, Institute of Biotechnology became independent member of Hue University as Decision No. 939/QĐ-ĐHH by President of Hue University.
Institute of Biotechnology, Hue University organization structure is consisted of 02 functional offices, 05 laboratories, 01 department and 02 centers. Staff includes 02 associate professors, 6 PhDs, 14 MScs, 7 bachelors and engineers. In addition, Institute of Biotechnology collaborates with more than 150 professors, associate professors and PhDs of Hue University and other universities and research institutions.
The Institute focuses on basic research of life sciences, key technologies; applied research on gene and cells technology, protein/enzyme, microbiology, biochemistry,… in medicine, marine biology, agriculture, aquaculture, food processing and environment; testing and evaluating biosafety of genetically modified organisms, genetic resources and products by genetically modified organisms.
Over the past five years, staff of the Institute published more than 100 research papers, including over 34 papers in international journals; implemented 02 national projects, 11 ministerial projects, 01 NAFOSTED project, 03 local Government projects, 23 Hue University projects, 03 international cooperation projects and 07 institution projects. Numerous products, processing procedures and utility solutions have been successfully applied to solve problems with highly efficient in the fields of agriculture, aquaculture, husbandry and poultry.
Since December 2018, the Institute has launched a bilingual doctoral program on Biology (English and Vietnamese), code: 9420101. The Institute also offers 23 short-term training courses on basic techniques as well as application in biotechnology. In addition, Institute of Biotechnology, Hue University has also permitted to launch Doctor of Philosophy in Organic agriculture, code: 9620125 according to the Decision No. 173 /QĐ-ĐHH dated February 11th, 2020 signed by President of Hue University.
Director Board
Assoc. Dr. Truong Thi Hong Hai – Director
Dr. Nguyen Duc Huy – Deputy Director
Address: Provincial Road 10, Phu Thuong, Phu Vang, Thua Thien Hue
Tel: 0234.3984.382; Website: http://huib.hueuni.edu.vn; Email: huib@hueuni.edu.vn