INSTITUTE OF BIOTECHNOLOGY, HUE UNIVERSITY

Solidarity, Creation, Development and Integration
—♦—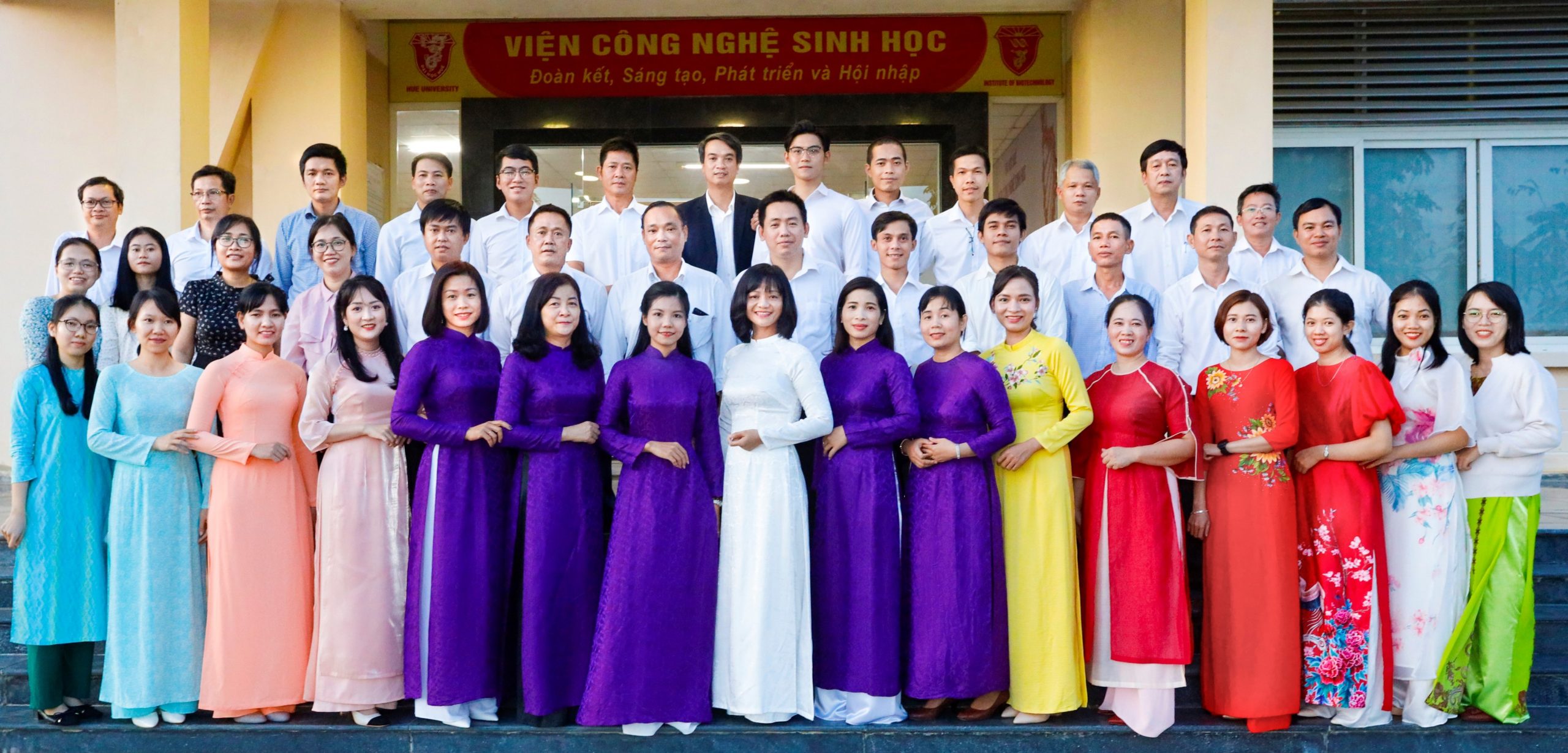 In April 2014, President of Hue University announced Decision No. 808/QĐ-ĐHH to establish Institute of Biotechnology, Hue University based on Laboratory of Molecular Biotechnology – Center for Resources, Environment and Biotechnology.
In May 2018, Prime Minister announced Decision No. 523/QĐ-TTg approving the strategy to develop the Institute of Biotechnology, Hue University as National Center for Biotechnology in Central of Vietnam which has responsibility for innovative research and technology transfer in order to serve social demands. In July 2018, the Institute of Biotechnology became an independent member of Hue University as Decision No. 939/QĐ-ĐHH by President of Hue University which has operated in the multidisciplinary fields of scientific research and technology transfer. In October 2021, Hue University Council issued Resolution No. 71/NQ-HĐĐH on merging the Institute of Resources and Environment into the Institute of Biotechnology, Hue University.
The Institute of Biotechnology, Hue University organization structure consisted of 02 functional offices, 06 laboratories, 01 institute, 01 department, and 02 centers. Staff includes 60 full-time staffs (01 Associate professors, 12 PhDs, 26 MScs, 17 Bachelors and Engineers, and others), and more than 150 part-time staffs who have expertise in biology, biotechnology, environmental resources, agriculture – forestry – fisheries from Hue University and other universities and research institutions.
The Institute focuses on basic and applied scientific research in biotechnology for Agriculture, Medicine and Pharmacy and the conservation of natural resources, environment; incubation and technology transfer, commercialization of research products according to social needs in the Central, Central Highlands and the whole country. In addition, the Institute of Biotechnology, Hue University has also permitted to launch Doctor of Philosophy in Biology, and Doctor of Philosophy in Organic agriculture. PhD candidates will receive scholarships, and use equipment systems at the Institute.
In the past 5 years, the Institute's staff has published more than 170 scientific articles, including more than 80 articles published in prestigious international journals; presided and implemented 01 national-level production project and 04 national-level independent projects, 01 state-level project under the Ministry of Agriculture and Rural Development, 02 Science and Technology Programs at the Ministry of Education and Training's level, 01 Nafosted project, 17 ministerial-level projects, 06 provincial-level projects, 14 Hue University-level projects, 02 international cooperation projects, 05 Institute-level projects; 04 research groups of the Institute recognized as strong research groups at Hue University level. In addition, the staff of the Institute has registered 01 patent, 02 utility solutions, 02 trademarks and transferred more than 07 technological processes, commercialized many scientific products, solved many urgent problems bring high efficiency in the fields of agriculture, fisheries, animal husbandry and the environment.
Board of Directors
Assoc.Prof. Truong Thi Hong Hai – Director
Dr. Nguyen Duc Huy – Vice Director