On December 6, 2016, the Institute of Biotechnology, Hue University successfully organized the Applied Biotechnology Workshop with the theme "Biotechnology application in the production of bioactive compounds". 
Attending the seminar were representatives of leaders, over 70 scientists, students and students of member universities and research centers of Hue University. In particular, attending the seminar were 2 professors from National Chung Cheng University, Taiwan, Prof. Wen-Chien Lee (Chairman of Taiwan Association of Biotechnology and Biochemistry, Deputy Secretary General of Asian Biotechnology Association) and Prof. Hau-Ren Chen (Department of Life Sciences, Institute of Molecular Biology and Institute of Biomedical Sciences).
With the topic of Biotechnology application, the reports at the Conference highlighted the importance of Biotechnology in the production of recombinant proteins from Escherichia coli, developing vaccine therapy in the prevention of dengue in humans, coccidiosis in chickens, diarrhea in pigs, extracting antibacterial active ingredients from aloe vera plants originating from Vietnam and the US, developing Development of molecular markers in loofah breeding and by-product degradation by recombinant enzymes.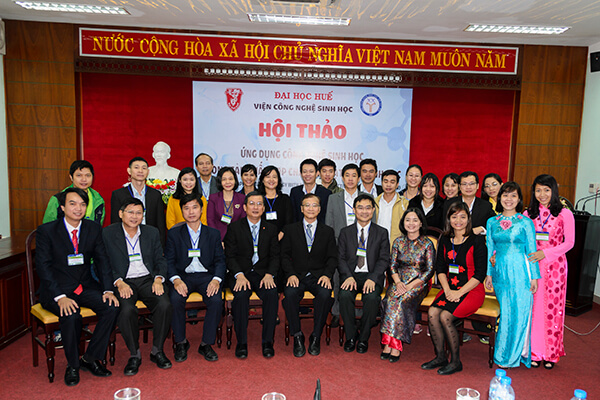 Delegates took photo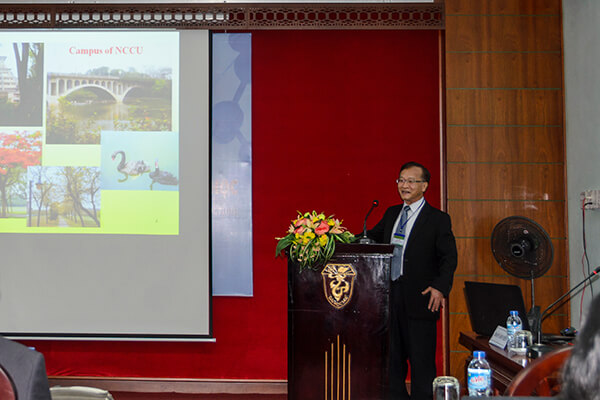 GS. Lee presented the report at the conference
In addition to professional presentations, the seminar is an opportunity for scientists inside and outside Hue University to meet, exchange expertise and seek cooperation opportunities.
Dr. Truong Quy Tung, Vice President of Hue University, Director of the Institute of Biotechnology, on behalf of the Organizing Committee, thanked the delegates attending the Workshop, highly appreciating the scientific value of the papers presented at the conference. Workshops, professional exchanges and affirmations are important premise for future joint cooperation between scientists. Besides, the Doctor also affirmed that the Institute of Biotechnology, Hue University with synchronous and modern facilities always wishes and is ready to cooperate, welcome and create favorable conditions for scientists as well as students inside and outside Hue University to conduct research.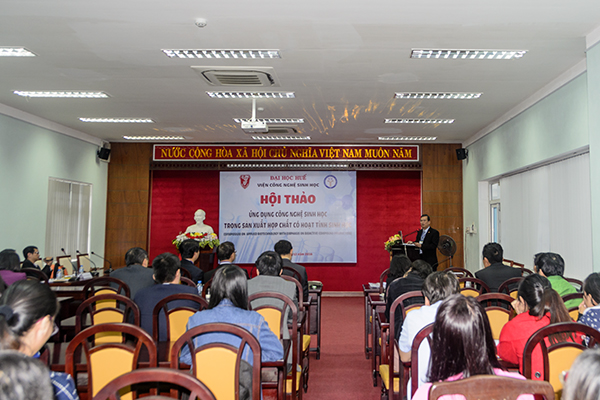 Dr. Truong Quy Tung delivered the closing speech of the workshop