Pursuant to the Decision No. 1433/QĐ-ĐHH dated October 4th, 2022 of President of Hue University, on October 20th, 2022, Institute of Biotechnology, Hue University (HUIB) organized the Scientific Committees to select the principle investigators for Hue University research projects in 2023 for two projects, including: "Study on the capability to treat salinity and metals in saline groundwater with bio-adsorbents from banana peels", and "Effect of nano-silver particles against antagonistic microorganisms causing diseases for Nelumbo lutea in Thua Thien Hue". The Scientific Committee members were scientists from units at Hue University.
The Scientific Committees evaluated the research projects on overview; necessity of research issue; research objectives, methods and content; implementation progress; expected products; ability of the principle investigators and the research members; potential of implementation institution; project implementation expenditure.
Both research projects have been selected for implementation from 2023. The Scientific Committees also suggested that the research teams should correct the report.
The representative of the project "Study on the capability to treat salinity and metals in saline groundwater with bio-adsorbents from banana peels" presenting at the meeting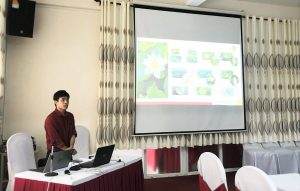 The representative of the project "Effect of nano-silver particles against antagonistic microorganisms causing diseases for Nelumbo lutea in Thua Thien Hue" presenting at the meeting